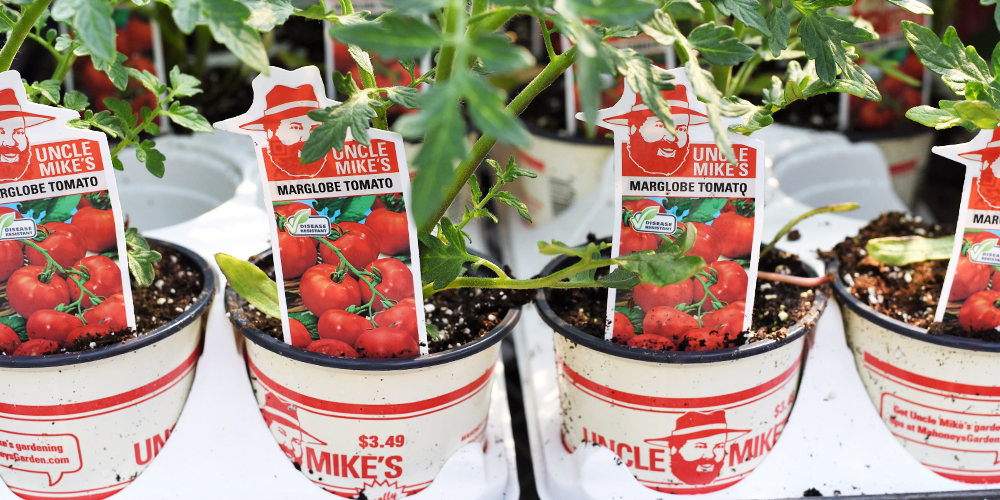 Uncle Mike's Top 10 Tomatoes for Container Growing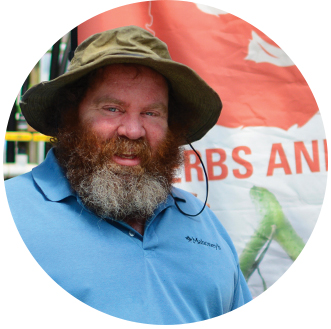 I always get asked about growing tomatoes in containers. I tell customers it will be easy and you'll see success if you remember the following:
1. Bigger is always better. The larger the container, the better the harvest will be. There's less problems with blossom end rot, lack of water and overall health from lack of nutrients because more soil will hold more nutrients and water.
2. Always fertilize. A container plant will use up the nutrients in the soil quicker than if it was in the ground, so you need to replace this in the form of fertilizer. I recommend planting with a granular like Tomato Tone and adding a water soluble feed like Neptune's Harvest throughout the season to keep the nutrient levels high in the soil.
3. You are automatically more susceptible to Blossom End Rot in a container. Blossom End Rot is a calcium deficiency not a disease. The cure is adding more calcium to the soil and not treating with a fungicide. You need to fertilize with a feed that contains higher levels of Calcium like Tomato-Tone. It can even serve you well if you add lime or Jonathan Green's Mag-i-cal to the soil for even more calcium. A calcium-rich soil must be preventative, not reactive to the problem. If you detect Blossom Rot on any of your tomatoes, you'll need to pick them off and discard. You run the risk of not realizing you have a calcium deficiency until its too late.
4. Try to grow medium to small sized tomatoes instead of the large ones. Large tomato varieties like Big Boy or Beefsteak are less forgiving with lack of water and require lots of room for a big root system.
5. Use the proper soil. I don't like to use a typical soil-less potting mix because it dries out too fast. You can add a little compost to a regular potting mix or  use our Mahoney's Organic Potting soil which contains a compost and is a bit denser that our regular soil-less mix.
Here's my Top 10 Tomato varieties for growing in containers:
Patio: Not a generic term but the variety. A dwarf plant with medium-sized fruit. Good for containers 10″ or larger
Husky Red: a dwarf plant with. Great tasting cherry sized fruit. Good for containers 10″ or larger
Better Bush: a good dwarf plant with small to medium sized fruit. Good for pots 10″ or larger.
Moby Grape: I have to put a grape in the lineup, right? This grape is a determinate variety,  so the plant won get too big.  It's everything you will expect from a sweet grape tomato. Use a container 14″ or larger.
Totem: Another dwarf plant that stands somewhat vertical so its not a wide one either and the fruit is great good for container 10″ or larger.
Tiny Tim: a very small plant with small, cherry sized fruit. This one is a great conversation piece, it only gets about 12″ tall. Great for a patio table when you have company over. This one will take a very small pot, 6″ or larger.
Jet Star: I often recommend this variety because it's not too big of a fruit and the size of the plant is not too big either. I love this tomato, it will be quick to produce and it's a nice medium-sized fruit with a thin skin and also considered to be one of the lowest acid tomato's out there (not all low acid tomatoes are yellow) Good for pots 12″ or larger.
Black Krim: This is a nice heirloom and medium-sized fruit and plant. Purplish in color and very tasty, good for containers 12″ or larger. Watch out for heavy watering or rain as they come close to ripening because they crack very easy.
Celebrity: This is a medium to large tomato that's on a determinate vine. If you want to try a large tomato in a container this on is the one to try. Its crack resistant as well. I'd use a pot 12″ or larger.
San Marzano: This is a sauce tomato.  It's a bush-type plant that will tolerate containers. It's great for everything from sauces to salads and salsa and cooking.
Marglobe: This is another heirloom with medium size real tasty fruit. This is a heavy producer for an heirloom and a determinate plant. Plant in a pot 12″ or larger.
Theoretically, a tomato can be grown in any size pot if you water and fertilizer well. My recommendations for pot sizes are just that, recommendations although sticking to these guidelines will make it easier for you and less work as you maintain your container garden into the summer.